Money does make the world go round, true. But it's the money that circulates through all the Starbucks and Dunkin' Donuts locations that really makes the world go round. (And you know, those other places that sell coffee, too.) The coffee business is a billion dollar industry with 54 percent of Americans drinking coffee on a daily basis. Scientifically speaking, that's a shit-ton.
For the coffee lover—OK, the coffee needer—there's a whole different market. Here are 11 coffee gadgets any connoisseur or straight-up coffee addict will love.
1. Cafe Wall Caddy
Keep your favorite k-cups within close reach. Loving the Cafe Wall Caddy, because it doesn't take up any counter space. Attaching to the using adhesive tape, it's super easy to install and won't damage walls.
Get it HERE
2. Cold Brew Coffee Maker
Don't confuse cold brew with iced coffee. Oh no. A cold brew refers to the process of steeping coffee grounds in room temp or cold water for a long period of time. Thanks to this process, which has a higher coffee-to-water ratio, the result is a brew with generally more caffeine. Takeya's Cold Brew Coffee Maker is BPA-free and can withstand boiling hot and iced-cold temps without being ruined. For $25, you can't go wrong trying it out.
Get it HERE
3. Contigo Travel Mug
You can't enjoy coffee without a vessel and if you're on-the-go, consider getting one that's practical and stylish. This mug has a double-wall, vacuum-insulated stainless steel barrel to keep beverages got for up to five hours (a flight cross-country) or cold for up to 12 hours.
Get it HERE
4. Coffee Roaster
Legit, I had no idea such a thing exists! The Behmor Customizable Drum Coffee Roaster lets the at-home DIY Barista roast up to one pound of green coffee beans. With their patent-pending Smoke Suppression Technology, the easy-to-use appliance is available on Amazon, SurLaTable, and Williams-Sonoma.
Get it HERE
5. Capresso Froth MAX
If you love cappuccinos, this is the way to save a lot of money and make your own Starbucks-y froth at home. It has three temperature settings—hot, warm, and cold—and is ideal for preparing hot chocolate, cappuccino, latte, flavored steamers, chai tea latte, hot cider, iced fruit lattes, and more. Basically, all you need is an at-home barista to spell your name wrong on a cup!
Get it HERE
6. Ripple Maker
And for the person who literally has everything, there's the Ripple Maker. Using patented printing technology, the machine creates any image or text on top of the foam layer of coffee bevies. It takes just seconds, but those Instagram pictures you'll be taking will last a lifetime.
Get it HERE
7. La Fenice
This is the first coffee machine to use electromagnetic induction to heat the water. It uses 80% less energy this way because it's only on when you're actually making coffee. Bonus: This overachiever can make two cups of coffee at the same time.
Get it HERE
8. Temperfect Mug
The Temperfect mug says that you never have to burn your mouth again. It brings your bevie to the perfect drinking temperature within minutes and uses the energy it stores to maintain that temperature for hours. Totally meta, man.
Get it HERE
9. Zoku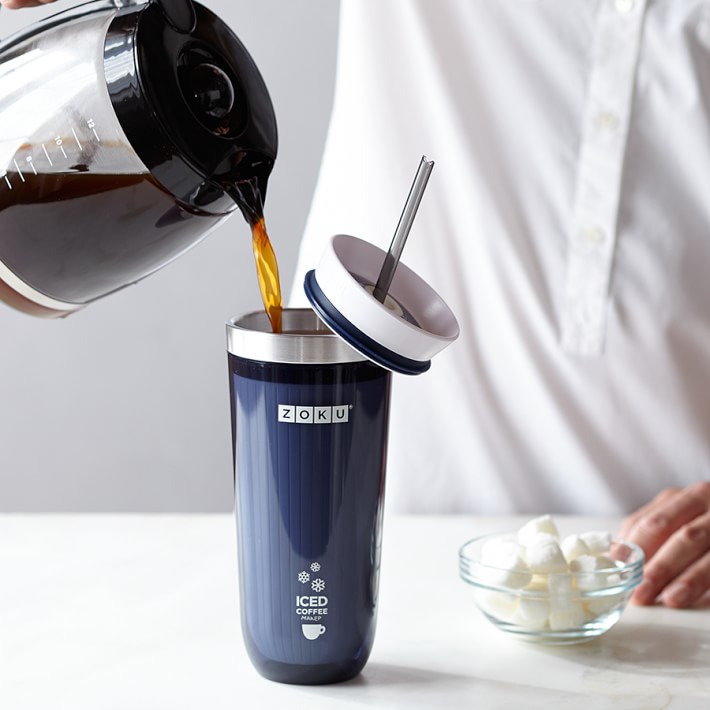 Zoku turns your hot beverage into an ice cold one. Just pour your fresh-brewed coffee into the grab-and-go container and slip on a special insulating sleeve. In a little while, your drink is chilled to perfection. The only other person you know who can go from lukewarm to ice cold in minutes is your sister's husband, amiright?!
Get it HERE
10. Haus clips
Simply put, these set of clips close coffee bags and anything else that needs closing. There's one with a measuring spoon will also help you figure out your coffee dose. Genius!
Get it HERE
11. Bookman Cup Holder
Ah, duhhhhhh. You're making all this coffee, but where da fuq you plan on putting it if you also want to go for a bike ride? The Bookman Cup Holder is where it's at. The construction is free from screws and glue and uses a smart clip design that makes it easy to use.
Get it HERE